During lockdown in New Zealand during 2020, I recorded 100 stories and uploaded them all on to the internet. The stories employed 100 different mediums… playdough, wooden spoons,string games, shadow puppets, crankie machines, paper folding and tearing, paper cutting, helicopter storytelling, finger verses, Waldorf table top puppetry, painting, felted storytelling mats, stories about my whanau, improvised stories, bedtime stories, healing stories, sign  language, te reo and many many more!
It began in lock-down when I figured parents would appreciate some basic coaching to learn how simple it can be to tell a story rather than only read them. And also some craft tutorials for extending stories into constructive handcraft sessions of 'making' and 'doing'. My goal was very much that parents and early childhood teachers would watch the videos and then make them their own, and strengthen their own storytelling voices ( and thereby encourage children  to find theirs!!) I also  wanted to maintain contact with children with whom I had been working. And so it began. More than three months later, I  am keen to digest what I created and learn from it and  consider where it is leading me! So here we go.
ONE: I learned how much I love storytelling when there is a live collaborative audience. At its best and at its finest, oral storytelling creates a dynamic and intimate relationship between the teller and the listener. It's a two way responsive and reciprocal relationship, especially in the  context of early childhood. For most of the hundred storytelling days there was only the lens of the camera and I could pretend it was you, a child, a group of children, but, boy, I missed you! And when I told my 100th story at Mahurangi East Library there was so much interaction and joy and animation and oral literacy, it was just the best of days. https://youtu.be/eyWBZDfPkEc  Especially for my final story session!
TWO. I have always thought and said that supporting oral literacy is my key motivator but I discovered that equally important for me is using our hands to 'make stuff' and I wanted to offer the children ways to be meaningfully occupied, crafting and making and assembling and embellishing props and theatres and all sorts. This also was a very joyful part of my own storytelling journey for 100 days. I think that making my own 'crankie machine' was the most satisfying! https://www.youtube.com/watch?v=gXIkdDpAgvg&feature=youtu.be I too like sitting there slowly cranking the image around and seeing the story evolve!  I want to write another blog post soon about the link between our manual dexterity and our brain development.. watch this space!
THREE.I discovered that that it was very evident in a video as to whether or not I was having fun and enjoying myself. The adrenaline rush and nervous excitement of the first few videos certainly ensured a degree of lively authenticity but about a week in, I realised that I had lost that and was in danger of just doing it because it had to be done. That was when I realised that in order to look like you're having fun you need to be having fun. I realised it's very much to do with one's mindset when one starts. To allow excitement and joy to be always hovering. When the string game about the Great Big Enormous Turnip completely failed to unravel at the critical moment after three times, my only response was to guffaw at the irony. I realised I should go straight into take four simply because I was alert, yet relaxed and laughing and enjoying myself! https://www.youtube.com/watch?v=FDCVr55THCY
FOUR.I felt that my human dignity was in some way restored by my experiences during Lockdown and having this particular storytelling focus meant I was obliged to be resourceful and ingenious and creative. I became very conscious of the phrase:" to make do". I learnt that this was a phrase that  became part of our language during rationing around WW2, and has since come to have a sort of negative connotation of not having enough and scraping by. But now in lockdown (and possibly then, during rationing), I imagine that for many people it elicited a positive and proactive sense of agency. It is very literally about learning how to MAKE and DO rather than simply being able to go out and BUY it. I love making, and doing. And using whatever is at hand, like the day when I noticed the evocative shadows made by my body on the pavement when I was out walking on a wonderfully deserted and sunny road during lock-down https://www.facebook.com/storytellingthreads/videos/2614624858817329/
FIVE. I learnt how to edit, splice, upload, download, reload, change the video bitrate, adjust volume, zoom in AFTER the video is made, add captions, credits, create split screens and so on and so forth! I learnt that the technology side of putting a story online takes about 5 times as long as "just telling the story", although I got quicker and faster at it. This also had an empowering side effect as I approached challenges and managed to find my way through them. That was a good feeling. And learning how to ask for help.Without help, I could never have made this wonderful video with a split screen. It began as an improvised filler story while  waiting for children to get settled. I was relieving in a Steiner kindergarten, and so it was not surprising that I ended up painting it as well. Then I  learned how to tell it in sign language and finally a woman I met on an art course agreed to do the narrative in te reo. I am very proud of this achievement. And all the different ways one can 'tell' a story. https://www.youtube.com/watch?v=tVnZMS4X0vM&t=29s is the version with the French narrative. And here is the one with the te reo narrative. https://www.facebook.com/storytellingthreads/videos/2662961333952955/
SIX. After seven weeks of balancing boxes, books, folded pieces of paper, a matchbox and pencils under my self-made camera-holder, I learnt that a tripod is a brilliant invention. I was also able to closely observe my appalling walk pattern and habits! Ever since this day of filming with friends (after lockdown moved to level 4) https://www.youtube.com/watch?v=PqOfudx9Aeo&t=32s I have been  religiously doing my physiotherapy exercises and slowly whittling away the unfortunate side effects of 60 years of bad habits! The joy of having stronger, straighter legs is not be underestimated! I am inspired by Feldenkrais who said we can 'make the impossible, possible; the possible easy; and the easy elegant!'.  Give me the rest of the year to get there!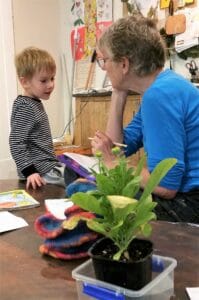 SEVEN.One of the most unexpected outcomes of telling stories, introducing stories and explaining stories (and video-ing the whole thing) was that I saw myself in action and realised that there are parts of my personality and ways of being that I really like and feel quietly reassured by. In short, I learnt to like myself more (especially my habit of occasionally cracking up with laughter) and I found it soothing in later videos to hear myself sounding sincere and authentic, like when I tell my story about learning the healing power of stories. https://www.youtube.com/watch?v=Lq1tICd488w&feature=youtu.be   There are also 'still' photos of me in relationship with a child that make me glad that I am me. I think I noticed my kindness, and my willingness to give my full, respectful (but playfully collaborative) attention. https://www.youtube.com/watch?v=VFPpleFeZeE&list=UUXW6uZ1kcVvyZeqeiZMDWiA&index=17 is the link to the Helicopter storytelling session… a massive exercise in editing that took numerous days to complete. Most stories could be done in a day.
EIGHT.Because there was a deadline every single day for 100 days it meant that I could not be precious about whether it was good enough, finished enough, or edited enough. It just had to go up the way it was. It had to be good enough as it was.  This was a refreshing blow to any ego that might be getting agitated about whether I made a good professional impression.  It simply was what it was.  I also learned that it was pretty much a given that every story would require four, five, even fifteen takes! https://www.facebook.com/storytellingthreads/videos/3152643871493151/ This was day 72 and I was faltering and even lapsed briefly into 'whining'! but the show had to go on. I didn't save this one to youtube!!
NINE. I discovered that being committed and being determined never to miss a day was not only do-able but gave my days a wonderful sense of purpose and focus. I felt quite formless and a bit lost for the few days after it had ended. Coming back now to write this 'ten things I learned' has helped me to start to digest and pick out the important threads and tidy up loose ends. I continue to be stunned when I look at the range and extent of my creativity and imagination! Though I say so myself. Here is the link to a paperfolding story about the golden crown, which I found and learnt and practised and re'wrote', and  finally told and video-ed. Nice little tale.  https://youtu.be/shZ_xu4DdFs 
TEN.As the final stories were told, it became apparent that I was discovering what my overriding values are. Taking risks, being playful, having fun while improvising remain high on the list.  Adjusting stories to give voiceless groups a voice  feels like it has become a higher priority as we leave lockdown and consider whether  'returning to normal' will help either the climatically challenged planet or the quietly silenced voices of people of colour. My storytelling is still not 'just entertainment' (which it never was because my original primary goal was to support oral literacy during the 21st century when 'childhood falls silent'). I continue to strive for  constructive and worthwhile storytelling that is  joyful and playful, while remaining focused on us becoming whole human beings: head, heart and hands.  https://www.youtube.com/watch?v=m1Uc22ldJZo&t=776s This video is about the book I was 'reading'/ telling when I noticed that all the children and parents were listening with enormously quiet attentiveness. I will let the video explain more.
Don't forget to sign up for the monthly newsletter if you would like to hear more about my journey with oral storytelling. https://evelyndavis.co.nz/contact-me/ and also be in the draw for the give-away… the complete set of fabric, props, script and bridge needed to tell the story of 'the little girl who lost her pig' https://www.youtube.com/watch?v=6xqll_IbfpI&t=283s . I will draw it on the 25th July.